I invite you to take a short break from the serious matter of learning to hack like a pro and enjoy a couple trivialities of my own creation.
You Can Now Pimp Your Hacker System with These New Goodies:
While I'm a neophyte hacker at this point, I'm firstly an artist. So I made this wallpaper for you guys. Despite my moniker, I'm not really a huge Matrix fan, at least beyond the first film, but I have always loved the look of the digital rain code. If you see it show up anywhere else on the internet, you'll know it debuted here on Null-Byte. I didn't want to put a signature on it because I hate the way they compromise images. Besides, It's not like I'm going to use my real name. It can be displayed by Kali users as well as those who are sticking with the earlier BackTrack versions. I think it came out pretty cool.
Here's a second, Kali specific version that includes the slogan.
I'm not sure what happened during the creation process that caused the file sizes to differ so but they both look really good in my opinion. Also they are 1600x900 because that's the display dimensions of my system. It's not too difficult to crop images to whatever size you need.
In case those are too busy for you but you're tired of the blue default Kali wallpaper, I'm also including some color variations of that.
Unfortunately I wasn't able to get as good a result with the yellow version because I had to make too many color adjustments which affected the overall quality of the image but if you want it and are fine with it, it's there. I'll try clean it up more when I have the time.
In addition to the wallpapers, I've been working with Austin Sticker Company to create a custom vinyl decal for your laptop, console or even your car. They are available in a wide variety of colors.
Unfortunately I can't make this available for free but it's reasonably priced. If you decide to order one, tell them Neobyte sent you. Please feel free to let me know if you did.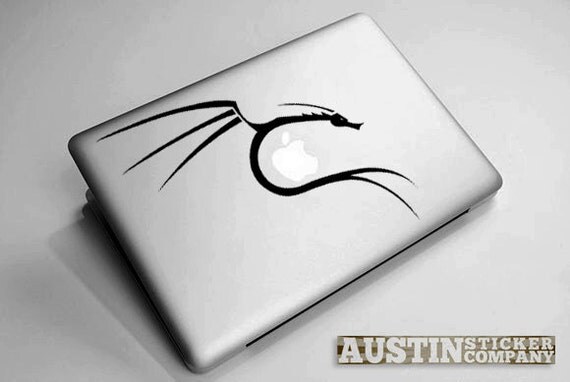 Vinyl decal of Backtrack Kali Linux Dragon. Customize surfaces such as your laptop, console or car! Size: 6.85 x 8.7 Each decal comes with instructions on how to apply it.